Oil and Gas Investment Bulletin
July 2011
Will natural gas prices repeat last yearís pattern?
Natural gas prices have tracked movements from 2010, with prices rising as we head into the summer. However last year, prices tanked in June and July. Are we in for a repeat?
News so far this year on the natural gas front has been bullish.
Prices are up. Growing uncertainties over nuclear power plants are causing officials in Germany and elsewhere, to look for new energy sources. As if that was not enough, the refinement of new shale extraction technology and consistently high oil prices are making gas an increasingly viable alternative.
In short, the fundamentals are all pointing in upwards.
But these longer term trends, while important, donít tell us much about short-term support, which is where many traders make their money. After all, natural gas prices did well at the start of last year too, only to fall off as the year progressed. Are we in for a repeat?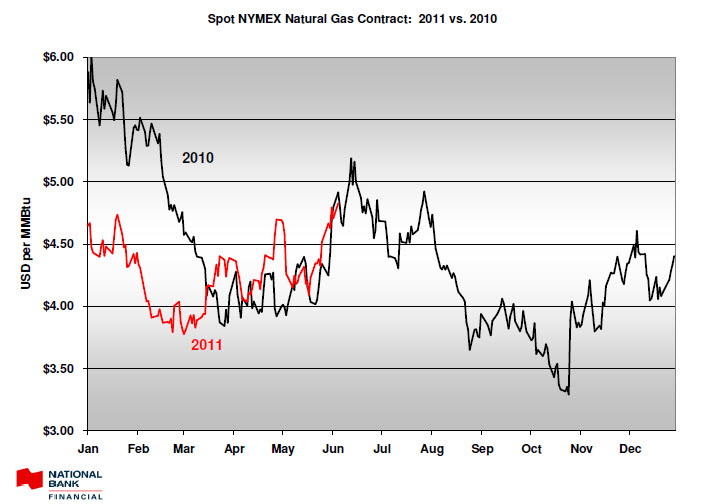 Not necessarily. In fact a variety of indicators suggest that natural gas looks interesting as a short-term play too.
TD Newcrest cites several positive fundamentals, including gas inventory numbers tracking below their five-year average pace, a tail-off in drilling activity, a positive weather outlook and a trimming of short positions.
Over the short term, as with all commodities, the direction of natural gas prices boils down to supply: how much natural gas can I get if I try to buy on the open market right now?
Tighter inventories
From that standpoint, the signs seem to be pointing in the right direction. For example according to US Energy Administration data released Thursday, inventories of working gas kept in underground storage are 10.9 percent lower than they were at this time last year.
Furthermore, there are indications that over the longer term inventories may tighten even further. The US Department of Energy is slow in publishing natural gas production data. However Bentek Energy PLC, a Denver based analytics firm, estimates that current production is down modestly from May levels.
Moreover even if production does pick up, there are questions about how sustainable this would be, because there are fewer people rushing to look for new gas. In fact, for the first time in at least ten years, the number of active gas rigs has slipped below the number of oil rigs.
Another key positive indicator of natural gas demand followed closely by traders is the weather outlook. As the folks at TD Newcrest point out, many regions in the US southeast and northeast experienced record high temperatures earlier this month. Better still, several large US regions are forecasting hotter than normal temperature this summer, which, (as do colder than expected winter temperatures) tends to lead to higher prices.
Not all indicators point up
Of course there are some negatives too. For example while natural gas inventories are down from levels at this time last year, according to the most recent Energy Information Administration report, they are up slightly (69 billion cubic feet (bcf)) from one week ago.
Furthermore as analysts at Raymond James point, a portion of recent natural gas demand stems from a temporary surge in use for power generation, due to the fact that many nuclear plants have been slow to get back into full production after extended maintenance following the Japanese scare.
The Raymond James folk expect that as these nuclear power plants come back on stream, that natural gas supply will increase and inventories will start to pile back up. The also warn that the coming hurricane season, which started on June 1rst, could hurt natural gas prices. Thatís because when hurricanes hit, the damage they to output from the Gulf of Mexico tends to be less than the consumer and business demand hit they cause.
Yet while short term-term factors appear on balance to be bullish, those is doubt, got more ammunition regarding the longer term structural demand outlook from an International Energy Association (IEA) report issued earlier this month, which said that global demand, particularly from countries such as China and India could rise by more than 50% during the next 25 years.
If that happens, natural gas would account for more than a quarter of global energy demand.
True, while over the long term we are also all dead, knowing where overall current is headed, makes it far easier when calling close short-term bets.
-30-